Trust, Anonymity and Authenticity in the use of social media as a social worker. Are there standards?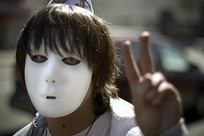 Over the last week, well – over the past few months really, I've had a few thoughts swooshing around in my head about my use of a pseudonym rather than my 'real' name in social  networking or rather on blogs and Twitter.
I use my real name on Facebook, Google Plus and LinkedIn but felt that on Twitter and on blogs I would be too exposed. My desires to explore the medium of social networking both personally but also to increase my professional knowledge and to identify myself as a 'social worker' led to my initial reluctance to add my name to my posts.
See on shirleyayres.wordpress.com